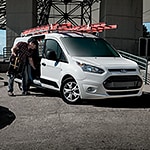 On each side of the Ford Transit Connect at Crown Ford in Redding, CA is a sliding door that gives you access to the cabin or the cargo space. The floor on this van is low, so you can load with great ease or get into the van without hassle. When loading cargo, you can fold the rear seats flat to increase the cargo space to about 106 cubic feet.
Ford offers the needed fleet management data and mobile services that make it easier for enterprises to own a Ford Transit Connect. The range of smartphone app services that come through FordPass Connect and Sync 3 include live traffic updates, navigation, hands-free calls and text messages, remote control of the van, and access to apps on your smartphone.
The updated FordPass app brings you more convenience features, allowing you to operate your van from a distance. New models are able to detect their unique key fob even before you get it off your bag or pocket and unlock the doors for you. When you press the power button from the key fob, the van engine starts.