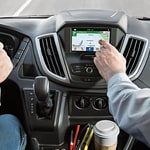 If you want a passenger wagon with great technology, the Ford Transit is a wonderful option! Stop by Crown Ford in Redding, CA if you'd like to discuss the technology package for the Ford Transit in person.
No matter where you go in the Ford Transit, your passengers will love the ability to connect to Wi-Fi in this comfortable van. There is also Ford+Alexa, so you can access smart home features and check on your orders as you drive. Need to add something to a shopping list? Ford+Alexa is excellent for a long drive and multitasking when your passengers are content.
In town, the active park assist is an excellent way to parallel park. If you are nervous about finding a spot and parking the Ford Transit, Ford made it easy to rely on the technology to get you parked quickly! You can also use this feature to get out of a tight parking spot.